Cascadia Equine Veterinary Clinic was opened as an ambulatory practice by Chris Wickliffe, DVM, in the fall of 2007 and became a brick-and-mortar facility in the spring of 2021. The clinic is in Tangent, Oregon and mobile services are offered throughout the mid-Willamette Valley.
Dr. Wickliffe dreamt of owning his own practice since he was a young boy. He first became interested in horses at 13 through the Boy Scouts of America at the Butte Creek Scout Ranch in Scotts Mills, Oregon. This interest became a passion and led him to his career as an equine veterinarian.
Dr. Wickliffe earned his Bachelor of Science degrees from Oregon State University (OSU) in Economics and at Colorado State University (CSU) in Equine Science. During his time at CSU, Dr. Wickliffe had the opportunity to become the first student of the CSU Farrier Program and went on to be a teacher's assistant in that program. This led to the development of a successful farrier business during and after veterinary school. After earning his DVM at CSU in 2002, Dr. Wickliffe worked in three large surgical equine veterinary hospitals before opening Cascadia Equine in 2007.
Cascadia Equine thrived as an ambulatory practice, so Dr. Wickliffe decided to search for a piece of property that would work for a clinic to expand the practice. In 2017, he found a beautiful piece of ground off Highway 34 in Tangent. Dr. Wickliffe and his family, along with lots of help from the Cascadia Equine team, worked long hours to prepare the ground for building and did most of the finishing touches on the clinic itself after it was built. It required a lot of blood, sweat and maybe some tears, but the facility was officially ready for patients in the spring of 2021. Dr. Wickliffe's dream had finally become a reality.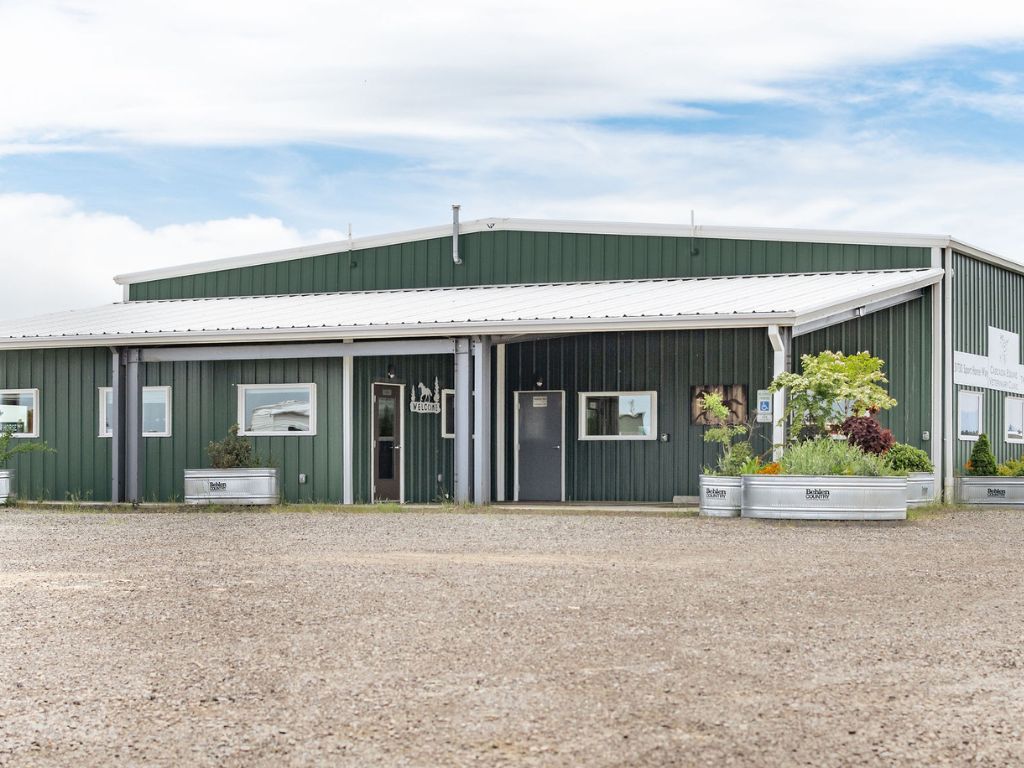 Once the clinic was ready for patients, Dr. Wickliffe changed the name to Cascadia Equine Veterinary Clinic and Rehabilitation Center to encompass all that the new clinic has to offer. With all this growth, Dr. Wickliffe needed to bring on an associate veterinarian or two to help. He hired Kelsey Palsgaard, DVM, cVMA in June of 2021 and Sera Moran, DVM, in October of 2021. Dr. Palsgaard graduated from the University of California, Davis and attended CuraCore Integrative Medical Academy, earning her certification in Veterinary Medical Acupuncture (cVMA) and has also earned her veterinary chiropractic certification (IVCA). Dr. Palsgaard worked at an equine hospital near Salt Lake City prior to moving to Oregon. Dr. Moran graduated from the University of California, Davis and completed an ambulatory internship and residency at Virginia Tech prior to starting with Cascadia Equine.
Multiple Services Offered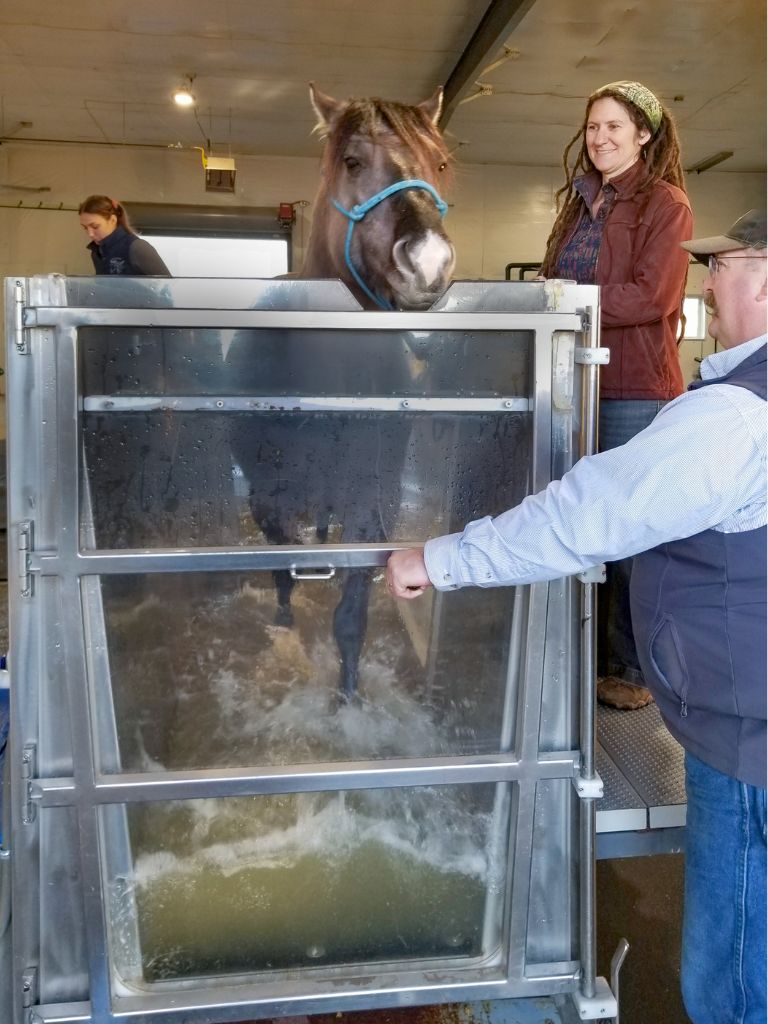 Having the new facility and three doctors at the practice has given Cascadia the ability to offer more services to their clients and patients. They offer acupuncture, chiropractic, digital radiographs, digital ultrasounds, lameness exams, laser therapy, platelet rich plasma, podiatry services, pre-purchase exams, pro-stride, reproduction services, and shockwave treatments. They also offer preventative care services, castrations, dentistry, joint injections, and vaccinations. These services are available for both clinic and ambulatory appointments. The clinic has stalls where patients can stay during the day and a mare motel. Lastly, Cascadia has a designated farrier area at the clinic where local farriers can bring client's horses free of charge. This provides farriers with a safe, clean, and organized space to trim or shoe horses while having sedation, farrier radiographs, or consultation if needed.
The clinic hosts educational events throughout the year such as continuing education programs for veterinarians, farriers, students, and monthly education presentations for horse owners. Their doctors also present to local equine groups and lead guest lectures and labs for equine classes at the nearby community college. All upcoming events can be found on their website.
An exciting recent addition to Cascadia Equine Veterinary Clinic includes an aqua treadmill which launches their rehabilitation and strength/fitness-building program. They also have a new in-house endoscope system and offer gastroscope (for ulcers) and respiratory (allergies). Lastly, they are happy to announce that with the help of Sarah Humphreys, DVM, Cascadia will be offering in-house referrals for specialized internal medicine cases. They are thrilled to be able to offer these new services to their clients and patients. The Cascadia Equine team is always happy to answer questions about their services and clinic. They can be reached by phone at 541-207-8308 (call or text) and email at contact@cascadiaequine.com. Visit www.cascadiaequine.com for more information about their team and service offerings. Follow them on Facebook and Instagram (@cascadiaequine) to stay informed about clinic happenings.
See this article in the March/April 2023 NW Horse Source online edition
Article by Danielle Meyersick
The Northwest Horse Source is an independently owned and operated (since 1995) online magazine for horse owners and enthusiasts of all breeds and disciplines in the Pacific Northwest. Our contemporary editorial columns are predominantly written by experts in the region, covering the care, training, keeping and enjoyment of horses, with an eye to the specific concerns in our region.