Too many equine practitioners are leaving the profession, and too few are coming in. Let's employ creative thinking to attract and keep our equine associates.
By Amy L. Grice, VMD, MBA
The facts are alarming. Less than 2% of veterinary school graduates are currently choosing a career in equine medicine,1 and significant numbers are transitioning to other sectors or retiring each year. Many equine veterinarians cite specific pain points causing them to want to leave the profession. To attract and keep equine associates—and to build a sustainable future for this profession—we need new paradigms and innovative ways of thinking. Here's where we should start.
1. Create a family-friendly culture
With the equine profession becoming increasingly female, the workplace must adapt to accommodate women who want to start families at the same time they're launching their careers. Practices must also allow mothers (and fathers) to attend to the needs of their families as they develop and mature as veterinarians.
Practices that offer a "hard stop" to the day, with no routine appointments scheduled after 3 or 4 p.m., can often provide the time young parents need. A shortened workday or workweek can also help a practice attract and retain associates. Good communication, a collaborative approach and lots of flexibility are all key to generating loyalty and job satisfaction in associates.
2. Establish workplace boundaries
Setting some limits can help veterinarians achieve and safeguard work-life balance and physical as well as mental health. Examples of workplace boundaries include:
Expecting to be called "Dr. Last Name" by colleagues, clients and staff
Saying no to scheduling routine appointments on weekends
Refusing to answer nonemergency emails, calls and texts after work hours
Teaching clients not to expect responses to nonemergency communications after hours
Utilizing paid time off for illness, vacations, personal matters such as funerals or horse shows, and so on.
When equine veterinarians believe in the validity of their own personal workplace boundaries, others typically will too. You teach what you tolerate.
3. Capture all revenue
Failing to account for all services and supplies on invoices is common in equine practice, and discounting is widespread. When all revenue earned is not invoiced and received, a practice won't have the funds needed to pay competitive salaries.
What's more, when bills are reduced for clients who complain or threaten, morale falls. Good clients who are grateful for the service pay full price without discussion, and the unfairness of rewarding bad behavior affects everyone in the practice.
Practices also sometimes make special deals with clients who are friends or insinuate that their veterinarian is "like family." When an associate charges the list price and the practice owner gives a discount, negative effects multiply. Forming clear financial policies and abiding by them will increase clients' and associates' respect for the profession and the practice.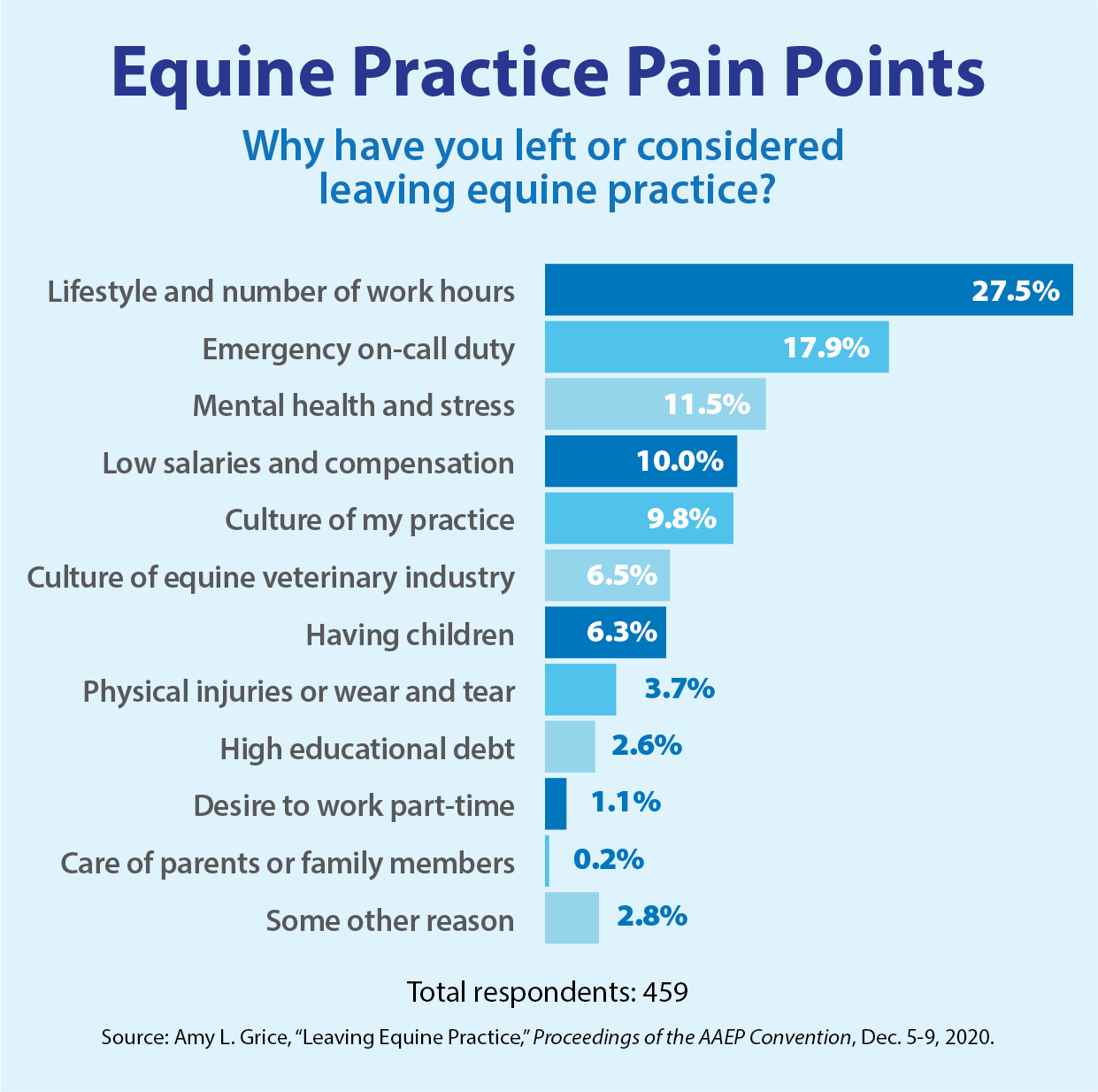 4. Boost efficiency
Equine ambulatory practice generally involves many hours driving from client to client. An assistant can make these hours more efficient. If the employee drives, the veterinarian can prepare laboratory forms, finalize invoices, look up history for the next call, schedule appointments or make callbacks. If the doctor drives, a well-trained assistant can accomplish most of these tasks. When driving time is productive, the workday shortens because there is less to do at the end of the day. This is good both for the practice's financial situation and the doctor's well-being.
5. Get creative with emergencies
Emergency cooperatives are increasingly filling the need for manageable emergency coverage, with small practices in a region banding together to share responsibility. Veterinarians of more recent generations seem to find the collaboration, cooperation and camaraderie a positive addition to their lives. Doctors in these cooperatives can also cover maternity leave for each other and step up when a colleague is ill or injured. Those who meet regularly also provide a community that imparts a sense of belonging.
Takeaway message
If the equine profession is to prosper in the future, we must attract and retain dedicated equine veterinarians. New paradigms must evolve to allow our changing workforce to have the flexibility and support they need while still keeping practices financially healthy. We must all contribute to bringing about changes that will keep the equine veterinary industry viable for the future.
Dr. Amy Grice practiced ambulatory equine medicine for 25 years and now offers consulting and professional leadership services through Amy Grice Veterinary Business Consulting.
1. Bain B. Employment, starting salaries, and educational indebtedness of year-2019 graduates of US veterinary medical colleges. J AmVetMed Assoc. 2020;257:292-297.
Copyright © 2022 Merck & Co., Inc., Kenilworth, NJ, USA and its affiliates. All rights reserved.
The Oregon Horse Council is a 501(c)(6) nonprofit that works to strengthen, connect, and represent Oregon's equine industry.