Fall Chore Efficiency
Farmers and ranchers know the drill well—they use late summer and early fall to do their prep work for winter. Horse owners can take notes from our older and bigger cousins and do the same, as fall is the right time to get things done! Cooler temperatures are easier to work in and better for plants and crops to take ahold. Plus, the timing is right to get a leg up on tasks which will make it easier to get through the wintertime challenges.
In this two-part series we start with yearly fall activities that need to occur at this time as well as those which, if done now, will provide a more chore-efficient winter.
In Part 2 (find it in the November/December issue) we'll finish up with emergency management preparations so winter doesn't take you by storm!
Here is your fall to-do list:
Apply a "green band-aid" to bare spots in pastures. Fall is the ideal time to fix bare spots in pastures by overseeding (at least six weeks before the first hard frost which, for most of North America, is probably mid-September through mid-October). Warm fall soils encourage root growth which will continue until the ground freezes. In areas with mild winters, roots may continue to grow all winter. Once early spring rolls around, roots begin new growth or continue growing but at a faster rate while also beginning top growth. By contrast, grass seed planted in spring will get a much slower start due to the cooler soil temperatures.
Plant trees and shrubs. Fall is also a great time to plant native plants which can be beneficial on a horse property. Plant hedgerows of native plants which can act as wind or dust barrier and provide an attractive visual boundary between neighboring uses. Native plants can act as mud managers alongside paddocks and confinement areas to help reduce flows, absorb water, and filter sediments and pollutants. Check with your local conservation district or Horses for Clean Water for specific questions.
Provide shelter for your horse. Shelter requirements depend on your horse and where you live. Horses need a way to get out of driving rain and wind and can usually regulate their own body temperature if allowed to do so. Your horse's shelter could be simple: a three-sided run-in shed, a stall with a paddock, or a shelter belt of trees.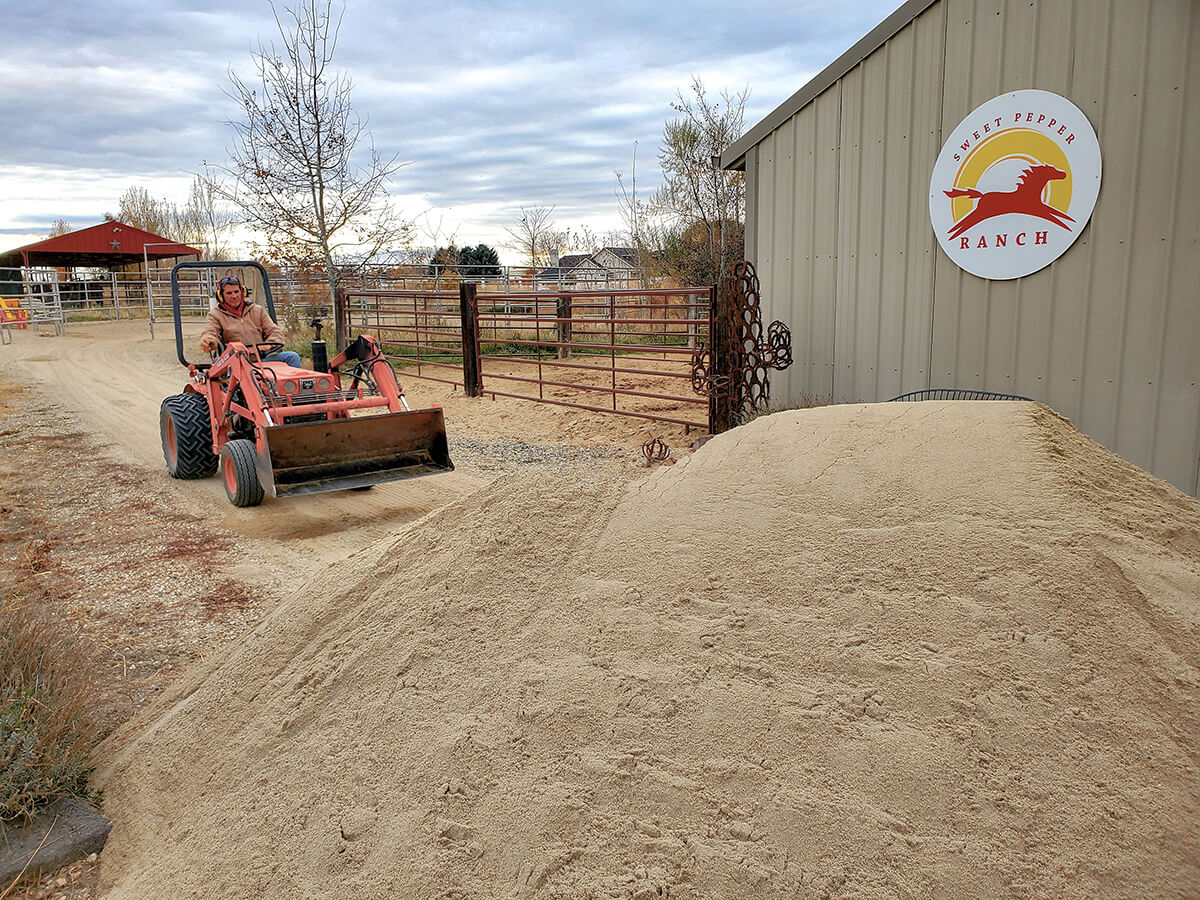 Bring in footing material for paddocks, confinement areas, and other high traffic areas. Now is the time to think about the sand or gravel you will need for footing in confinement and heavy use areas, such as in front of gates. These materials are more available in the fall before demand is high. Plus, it's easier for delivery trucks to back into paddocks and drive through pastures in the dry season rather than once these areas become slick and muddy during the rainy season. Put down 2 to 6 inches of material for each of these areas.
Begin a manure management program. If you don't do so already, now is the time to start picking up manure on a regular basis. A horse creates 50 pounds of manure per day. When mixed with winter rain or melting snow this quickly becomes 50 pounds of muck per day. All manure should be picked up at least every three days in stalls, paddocks, confinement areas, and high traffic areas. Composting is a great way to manage manure and turn it into a valuable resource for your property.
Spread compost. Early fall is a great time to spread compost. Compost is a rich soil enhancement. It adds micro and macro nutrients and replenishes natural microbes, all of which improve the health of soil and plants. Spread compost in pastures during the growing season no more than half an inch thick and no more than three to four inches per season in the same place. Check with your local conservation district for more advice and to see if they have a manure spreader rental program.
Check gutters and downspouts. Roof runoff systems should be cleaned and repaired in the fall. Gutters and downspouts "keep clean rainwater clean" by diverting roof runoff away from your paddocks to areas where it won't get contaminated with manure nor create mud. Good areas to divert rainwater to include a grassy ditch, a dry rocky landscaping area, rain barrels, stock watering tanks, well-vegetated woods, or an unused portion of pasture. Doing this will greatly benefit you by reducing the amount of mud your horse spends the winter standing in and will make daily chores easier.
Reroute surface water runoff. Runoff from driveways, parking areas, and hillsides can add significantly to the problem of managing mud in confinement areas. Ditches, grassy swales, dry wells, water diversion bars, and culverts are all useful means for diverting water away from confinement areas and barns. It is considerably easier to build these now than during the next downpour.
Review equipment needs for daily chores. Having the right equipment for chores not only makes things more efficient but also ensures that you'll be more likely to get those chores accomplished when it's dark and cold. Consider purchasing a manure cart that's easy to push and dump into the compost pile. Is your manure fork half broken? The heavy-duty plastic-tined type with a bent edge is made specifically for cleaning horse stalls and paddocks. Wooden handles or ones wrapped with tennis grip tape (or even vet wrap) are easier (and warmer) to grip than metal handles.
See this article in the September/October 2023 Northwest Horse Source online edition
The Northwest Horse Source is an independently owned and operated print and online magazine for horse owners and enthusiasts of all breeds and disciplines in the Pacific Northwest. Our contemporary editorial columns are predominantly written by experts in the region, covering the care, training, keeping and enjoyment of horses, with an eye to the specific concerns in our region. In print since 1995, we are still serving our readers and viewers with thousands of online views and print copies per month.