Avoid Waterborne Disease in Remote Areas
This isn't the stone age, and we're civilized. We shouldn't drink out of ponds, puddles, or streams anymore. When we extend our adventures and visit remote areas that don't have reliable, clean water sources, we need a dependable way to ensure that our drinking water is safe. After all, giardiasis, or beaver fever, a digestive system infection that causes severe abdominal discomfort and diarrhea, is not conducive to a pleasant day in the saddle. As we play and camp outside, we must protect ourselves from water that can make us sick.
The water you're camping near may look pristine, but invisible beasties may be lurking within that clear and refreshing stream. Here's a way someone might pick up a waterborne illness: a bear with Giardia defecates near a high mountain spring, many miles from the nearest trailhead, releasing millions of cysts invisible to the naked eye. You camp in a meadow surrounding the spring and rinse your face in the ice-cold water. Some of the water gets past your lips, and you swallow some of the cysts. A single cyst makes it to your small intestine and happily begins reproducing. In short order, enough Giardia have taken up residence to cause a fever and diarrhea.
The treatment for Giardia is usually quick with antibiotics, but in some cases, it could linger for months or years. The best plan is to avoid waterborne parasites by purifying your water. You can do this in several ways.
Filtration
For me, filtration systems are the gold standard. Water filters are a physical barrier that can block debris, microorganisms, and viruses from passing through and into you. While many types of filtration systems physically strain out the nasties that can make us sick, I'm a fan of gravity-style filters and purifiers such as the various Berkey water systems. With this style of water filter, gravity does the hard work of forcing water through the filter for you. You can filter and purify a lot of water at once without the effort of hand-pumping water through the filter.
I like countertop models such as the Travel model from Berkey for trailhead camping or anywhere that space is limited. The solid design has a reservoir that holds clean water at the ready. I stick with gravity filters for backcountry packing trips but move to collapsible bag styles that roll up to fit inside a pannier box.
Not all water filters are the same. Where my countertop Berkey model removes contaminants as small as viruses, the collapsible bag filter only removes larger impurities such as protozoa and bacteria. Thankfully these biological pathogens are the main water concerns if you're traveling in North America. Read the fine print before purchasing any water filter to ensure it will do the job you need.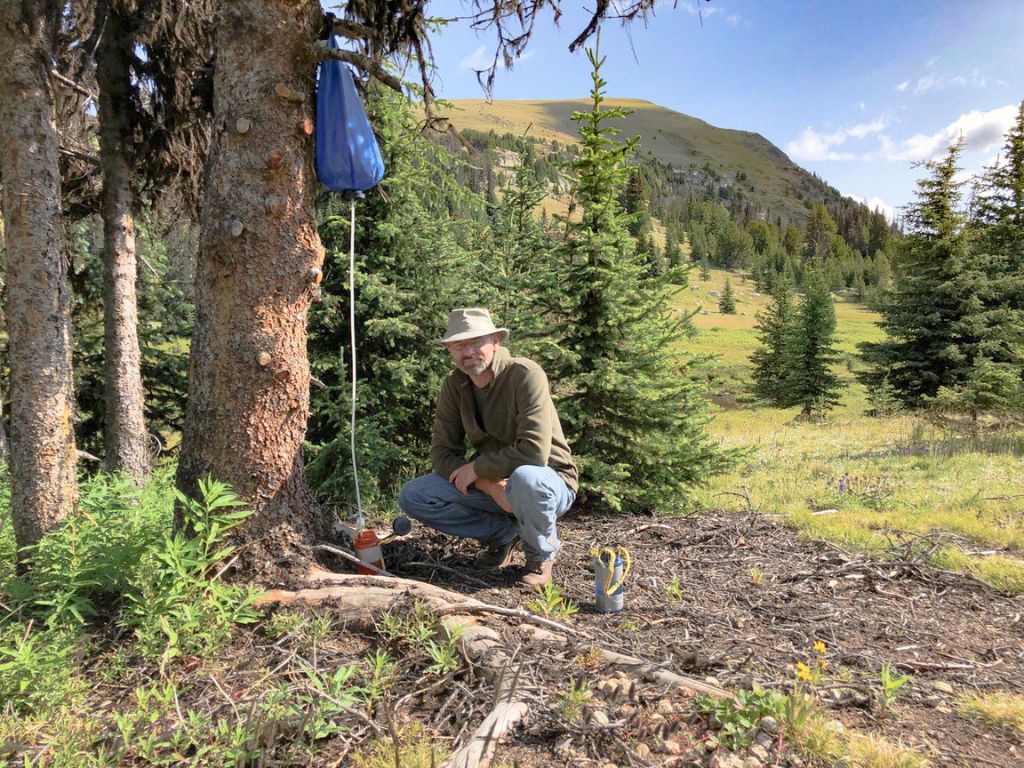 Boiling
At the most primitive level, boiling water is the most effective way to remove harmful microorganisms from untreated water sources. According to the World Health Organization, water boiled at 158°F "will kill 99.9% of bacteria, protozoa, and viruses in 1 minute." Once boiled for at least a minute, your water is "safe," though it may be cloudy and taste like whatever was upstream from your collection point.
Chemical Disinfection
Chlorine or iodine tablets are a space-saving and effective way to purify water. You add water purification tablets directly into a bottle of water, and, after 30 to 60 minutes, the water is safe to drink. Chemical purification tablets can leave an off taste (there goes your morning coffee), and some aren't safe for people with shellfish allergies.
UV Light Purification
Lightweight ultraviolet light purification systems are becoming more popular. The UV light of the device disrupts the DNA of the creatures lurking in the water, rendering them harmless. Besides good batteries, UV light requires very clear water to work effectively. Correct power delivery, water agitation, and contact times are also necessary for maximum pathogen reduction.
When camping, proper water treatment is vital to maintaining your health. Not all water sources are unsafe; however, even the most pristine-looking source can make you ill. If people or wildlife can reach an area, so can their contaminants. As more and more of us explore wild places, contamination levels rise. Don't play intestinal roulette when you have many water treatment options available.
See this article in the March/April 2023 NW Horse Source online edition
TrailMeister is the world's largest horse trail and camp guide. With all of the info that you need on thousands of horse trails and camps across the US and Canada.