Share the story and photos of what makes your senior horse special for a chance to win a 1 month supply (3.3 lb.) of Glucosamine Plus from SciencePure and a free 1 year membership in The Northwest Horse Source!
Your senior horse been there for you in a special way. Share what they mean to you and what makes them special. Send us a short essay and two photos on "What Makes My Senior Horse Special". Entries will be judged on both story and photos. Prizes will be awarded for Youth Category (ages 12-17) and Adult Category (age 18+). ENTRY DEADLINE: AUGUST 25, 2023.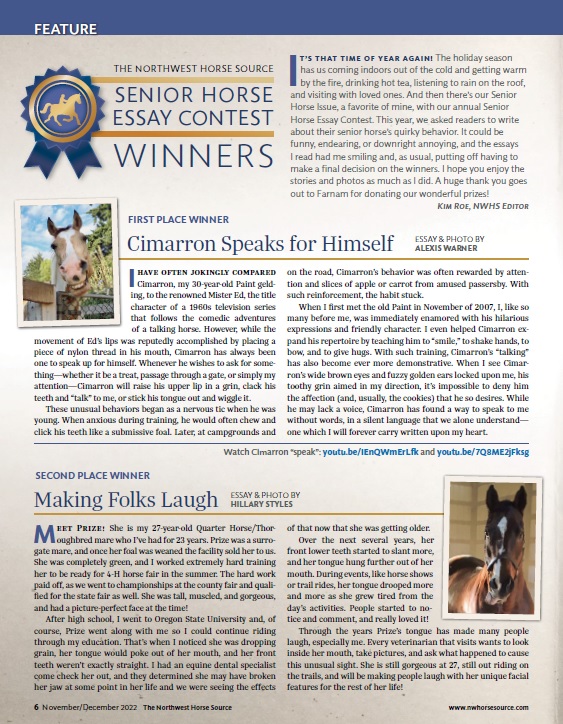 GUIDELINE CHECKLIST
Horse must be 18 years or older
Essays must be 400 to 500 words in length
Submission must include only 2 photos of your horse (digital or hard-copy)
Digital photo submissions must be either high-resolution JPG or TIF images at least 300 pixels per inch (ppi) at 3 x 5 inches
Hard-copy mailed photos* should be 4 X 6 inch or larger, printed on high-quality photo paper (no plain-paper prints)
Essay text may be typed in the body of an email or attached as .doc, .docx, or .rtf file; other file types will not be considered
Include your name, postal address, email (if available), and phone number
Please indicate your age category: Youth (ages 12-17) or Adult (age 18+)
ENTRY DEADLINE: AUGUST 25, 2023
* MAILED MATERIALS WILL NOT BE RETURNED; SEND ONLY COPIES
SUBMITTING YOUR ENTRY
Email to editor@nwhorsesource.com with the subject: "Senior Horse Essay"
OR
Mail to: The Northwest Horse Source, 6165 Prospero Road, Peyton, CO 80831
The Northwest Horse Source is an independently owned and operated print and online magazine for horse owners and enthusiasts of all breeds and disciplines in the Pacific Northwest. Our contemporary editorial columns are predominantly written by experts in the region, covering the care, training, keeping and enjoyment of horses, with an eye to the specific concerns in our region. In print since 1995, we are still serving our readers and viewers with thousands of online views and print copies per month.