Coleman Classic Stove model 425E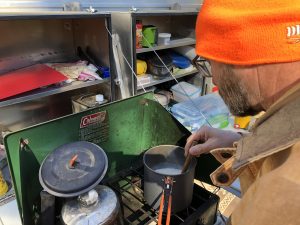 A good picnic-table stove for horse camping doesn't have to be complicated to be great. It should cook food and boil water quickly, and be rugged enough to withstand travel in the back of a truck or trailer. The coleman classic is just that, uncomplicated yet great. It also costs less than half of most other camping stoves.
This is a simple and straightforward two-burner camp stove that provides everything you need for basic meals at a very nice price
Burning strong since 1967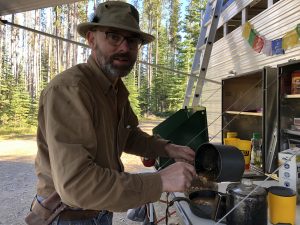 The Coleman Classic is a simple, functional stove that performs steadily and predictably — an essential trait for any piece of outdoor gear, but especially the thing that makes you coffee and hot meals.
It boils water, simmers well, and blocks the wind. On top of that, it's simple to set up, is lightweight, and packs down to a compact traveling size.
All in all, this is a great no-frills option, which is why this stove is one of my most coveted camping items.
Though it doesn't boil water the fastest or slow-cook the longest, it just didn't matter. Who cares if your water boils a minute faster or slower? The most important feature of the Coleman classic is that after getting tossed in and out of your truck over and over again, it has the best chance of not breaking.
One thing that we like about the Coleman Classic Stove is that it has the barest minimum of parts for easy maintenance. Our model (the 425e) does not have a Piezo ignitor—that little red button you see on a lot of stoves that lights the fuel—so you'll have to bring a lighter. To us, that's just one less thing to break (and they always break).
Why a Coleman Classic Stove? We love our Coleman stoves and would like to sum up our pros for you:
It burns really hot.
Simplicity of dismantling and cleaning.
We can buy fuel everywhere.
It works in all altitudes.
It's mobile: we not only can choose to cook inside our outside of horse trailer, but we even took the stove on a pack trip.
Cooking power: Up to 20,000 total BTUs
2 adjustable burners: For precise temperature control
Wind-blocking panels: Shield burners from wind
Pressure regulator: Pressure-control technology for consistent performance, even in extreme conditions
For more info and to get your own Coleman Gas Camping Stove | Classic Propane Stove, 2 Burner – https://amzn.to/3iUze8E
As always for more information of trail riding and camping with horses give the largest and accurate guide to horse trails and camps a visit at www.TrailMeister.com.
Help Me Help You
The biggest help is when you use any of my Amazon links when you get anything. It costs you nothing, and is this site's biggest source of support. If you find that TrailMeister is as helpful as a book you might have had to buy or a workshop you may have had to take, feel help me continue helping you.
TrailMeister is the world's largest horse trail and camp guide. With all of the info that you need on thousands of horse trails and camps across the US and Canada.