Hooves & Hearts Celebration Online Auction
December 9, 2021

-

December 18, 2021
Celebrate with us at this interactive virtual event to honor our community, highlight what your donations support & share what's to come!  Free to anyone who wants to attend.  The more the merrier!
While waiting for event day, head over to our Huge Online Silent Auction (Viewable now, taking bids starting Dec 9th).  All proceeds to benefit Zeb's Wish. Horse and Farm, Food and Libations, AirBnB's, Adventure Experiences, Art and more.  Check it out
HERE.
About the event
Remember what it was like before masks and working sans pants became the norm? How we would pack the event venues of our fundraiser, dance like prancing ponies, and hug each other?
Yeah, we remember that too and can't wait to party with you all in person again…..maybe next year?
In the meantime, we are doing the next best thing and hosting a VIRTUAL CELEBRATION! So dress up in your fanciest celebratory jammies, grab your favorite holiday beverage and kick up your hooves in the comfort of your own home for an interactive community-driven evening to honor all the incredible work Zeb's Wish has accomplished during covid with your help.
Register NOW for ongoing updates, this year's signature celebration cocktail/mocktail recipe, and the zoom invite.
You won't want to miss this kick-ass event filled with:
Exciting Updates from the Founders, Suzi and Mike
Heartwarming Rescue Stories
Short Film Premiere
Giveaways
Silly Animal Photo Contest
Online Auction Updates
Silly Animal Photo Contest Details: Do you have a furry goofball in your life? Send us a photo of your silly four-legged friend via email to zebswish@gmail.com with "Silly Animal Entry" in the subject line. We will narrow down the submissions and attendees will vote for the winner at the celebration. The winner will receive a "Daisy the Donkey" mug and vegan hot chocolate bomb by The Roaring Vegans. Entries are due by Tues. Dec. 14th at 6pm.
Online Auction: View now at https://www.biddingowl.com/ZebsWishEquineSanctuary. The auction will go LIVE at 5amPST on Thurs. Dec. 9th and close at 6pmPST on Sat. Dec. 18th.
Despite a global pandemic, unprecedented fires, ice storms, and wind, the rescue work goes on, and the love and care of our sanctuary and fosters marches forward as does the expense of all of it. Your continued support is more important than ever!
This is a FREE event but donations are much appreciated. Donations of $250 include a complimentary limited edition "Daisy the Donkey" mug.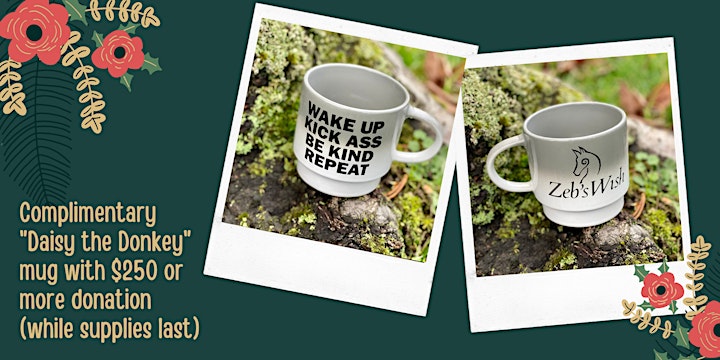 Your generous financial contributions help support Zeb's Wish Equine Sanctuary's rescue and rehabilitation work for special needs equines (horses, mules, and donkeys) as well as our educational programs. Together, we can heal humans and equines alike. Find out more at: https://zebswish.org/
On facebook? Join the converstation on our event page! We'd be so grateful is you would take a moment to share and invite your friends & family to the auction and celebration. The more, the merrier!
We can't wait to see you on Thursday, December 16th at 6pmPST!
Related Events